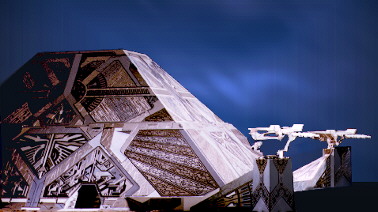 click on image to see a frame from the film.

This project entailed receiving actual scale drawing files (primarily .ai files either fedex'd or e-mailed) and hand drawings to work from, along with printouts of the project graphics, callout sheets and one full size plot, to insure correct dimensions.
All of this design work was then seperated, redrawn where needed, cropped and nested, cut, and either weeded, inlayed, assembled (in some instances only cutting was necessary) and sent to Digital Domain where the final assembly took place. All this work was done with AutoCAD.
Images Courtesy of Digital Domain